LSTI is a conformity assessment body in cybersecurity, established in 2004 in Saint-Malo, France, by Armelle Trotin. From her previous professional experience, Armelle Trotin identified there was a market in France, as there was no French conformity assessment body. Therefore, she surrounded herself with cybersecurity experts to found her company.
For 16 years, LSTI's values remain the same: expertise, independence and modernity, to offer you high quality services.
As a pioneer in the French assessment market, and thanks to our customers' trust, we opened an international subsidiary in 2016, LSTI Worldwide.
We are proud to contribute to the digital economy growth in France, but also in Europe and globally, and we do our best to fulfill our customers' needs.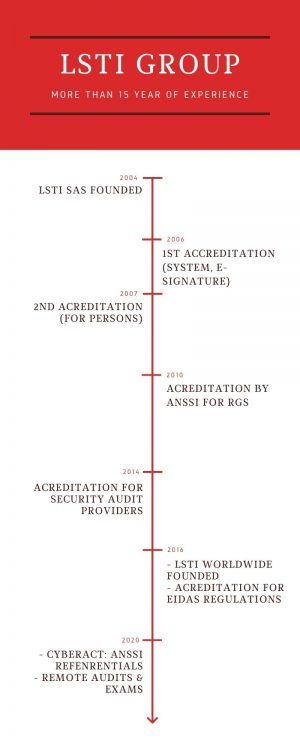 About the LSTI Group nowadays:
145 taken exams
190 customers
9660 certified candidates

37 partners
Working with companies in more than fifteen countries around the world
A catalogue composed of more than a dozen of company and individual assessment offers
The digitalization of our activities to respond to our customers' demands, to be line with our digital era and to preserve our planet by suppressing as much as possible paper in our business.